Mgr. Radan Janoš, 

Attorney at Law
Thanks to my lengthy experience in the provision of legal services for Czech and foreign clients, both private and corporate and in various fields of law, I have acquired adequate knowledge requisite to provide consultaion in a wide range of legal matters.
I believe that through the range of fields I have worked in, I have obtained a unique skill set for understanding the specific needs of private and corporate clients alike. This skill set enables me to have a broader perspective concerning both private and corporate issues, as well as circumstances that may play a vital role in a specific legal matter.
The broad range of services I am qualified to provide includes areas from real estate contracts to legal disputes to complex business transactions.
Corporate contracts
Complete contractural agendas, including sale of shares, licensing contracts for software and copyrights, power of attorney, and many others.
Corporate legalities
Solutions for all corporate matters, including shareholder meetings, shareholder relations (specializing in shareholder conflicts), increasing registered capital and provision of fees other than registered capital, company relations within larger corporations, and many others.
Labor law
Employee/employer representation for the specification of labor relations and terminations, including labor disputes over termination conditions and many others.
Legal disputes
Solutions for both civil and corporate disputes, specifically in the areas of debt settlements, damages, property disputes and many others, including executory proceedings.
Intellectual property
Representation in intellectual property cases, including copyrights, license contracts, software, patents, etc... Consultations on intellectual property violations also available (especially in the area competitor violations).
Insolvency law
Consultations on insolvency proceedings and representation for lenders and debtors, especially for the purpose of submitting insolvency papers and receivables applications.
Property law
Representation of property rights of all types (apartments, land, homes, industrial sites) especially in the areas of purchases and sales, easements, purchasing rights, etc…
International contracts and legal services in international matters
Consultations for the conclusion of international contracts and the sale of goods abroad, joint venture contracts and other forms of collaboration with foreign business partners. I also provide legal support for entering foreign markets (in most cases, in cooperation with foreign legal offices with whom I regularly communicate).
My Profile
My education in law was obtained at Palacký University Olomouc and I have been an Attorney at Law since 2008. I gained legal experience as an advocate at Brož&Sokol&Novák, a premier Czech law firm, where I gained experience mainly in the areas of legal disputes, criminal law and corporate law. Thanks to my work at Brož&Sokol&Novák, I had the opportunity to work on many interesting cases that were frequently covered by the media.
Later, I continued in my quest to gain experience at another renowned law firm with PRK partners, another renowned firm, where my work was focused on corporate law, intellectual property law and property law. At PRK Partners, I also gained experience with international clientelle and international and domestic investment projects in the areas of industrial production, centers for shared services, the IT sector and many others.
Over the years, I have served a wide range of clients in various fields of law and, I must admit, each individual field has been interesting to work in. Ideally, the aim is to provide legal services for whatever need my clients may have and help them reach their own specific goals, whether it be the acquisition of a company or the purchase of real estate for private living. Although I am qualified to provide all of the aforementioned, my agenda is predominantly focused on various disputes settled through court hearings.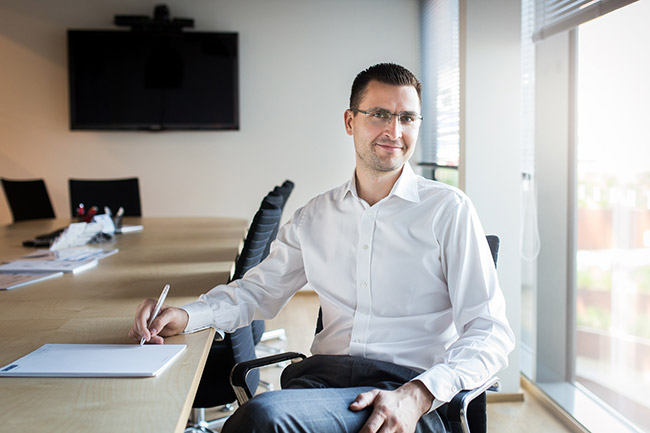 Thanks to the foreign exchange study programs I took part in at Rotterdam University in Holland and at Geneva University in Switzerland, my internship at Smietanka, Buckleitner, Steffes & Gazon in the USA and long term cooperation with foreign clients, I have obtained a substantial amount of contacts with foreign, legal partners and also specialize in cross-border expansions, opening doors for my clients both here and abroad.
Life outside of practicing law
My legal work and other professional activities take up most of my free time. What's left is spent doing sport or any other acivity to help me unwind. I'm sure you can relate…